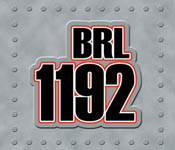 Welcome to the new BRL 1192 website at Critical Hit, Inc. That stands for 'Western Desert of World War II' and we hope you'll agree it was high time you were provided a separate site to see what we're bringing to your attention as the line is relaunched.
Like our line (and life), this portal is a work in progress and we are putting in the man-hours, creative muse, and everything in between... to come up with ways to entertain you via the tactical-level game metaphor. If you've been around for a while you know we like trying new things, respect old things, and seek to provide a new take on a decidedly 'retro' gaming experience. It often times comes down to the ridges on the paper-clip, not a new way to fasten papers...and perhaps some colored paper-clips!
We humbly present you the next phase of the tactical-level gaming experience. New design submissions welcomed.
---
http://www.criticalhit.com/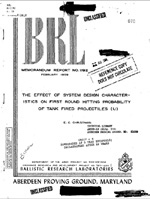 A full BRL 1192 report with game-related analysis and new materials coming soon!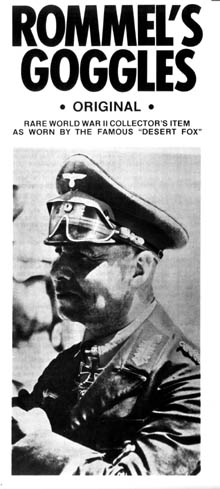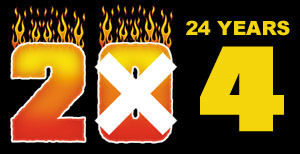 Twenty Three Years of publishing YOUR labors of love and counting! Founded in 1994, Critical Hit coined the phrase "Enthusiast Media" to describe the firm's approach to bringing together the publisher and the hobbyist/designer in a unique method of cooperation that strips away everything but a mutual effort to bring labors of love to the fore. This approach has proven successful in the form of many tactical-level wargames in print, and many more currently being prepared for publication.
---
"Ok, have to admit the overhead art is great for the infantry."
"Thank you Ray (and the whole Critical Hit team) for your incredible production efforts and contributions to the wargaming scene - and thank you Maureen for the fantastic job you do in handling all the orders and making sure things run smoothly."
"We have started playing Tobruk at my hobby shop and it is a big hit! We played on the largest table and sent the Games Workshop 40K players downstairs! A first for Elite Hobbies & Models. Hopefully this will translate into more orders for you."
---
NOW SHIPPING SEPTEMBER 2017!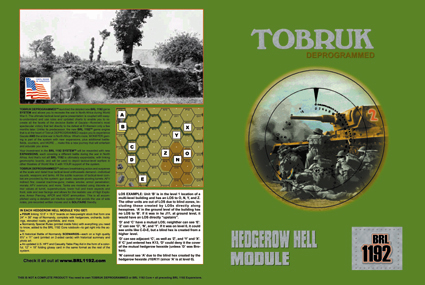 Ok, the name is oft-used by too evocative – and with the "BRL" thar she blows. A new 24" × 36" map brings you into the heart of the BAND OF BROTHERS in … wait for it: the Hedgerows of Normandy. Without painting up any miniatures the module brings YOU to a hot take on the Battle of Normandy … WHERE YOU ACCOUNT FOR EVERY MAN, GUN AND TANK.
Every man. The module continues the BRL Overhead presentation (the system's State of the Art) and provides some new wrinkles: 1) A new Casualty Table is provided that uses TWO six-sided dice to make the results less certain – and potentially MORE lethal. Or less lethal. It all depends on how may FRAG factors or Gunfire Factors you are throwing out there and LADY LUCK. 2) New terrain works with the new Casualty Table and the existing system with HPT DRM for one and all – plus DRM coded into the new Casualty Table as it has been 'flipped' results-wise, to mirror the way the HPT works. 3) We looked at ALL the Bocage themed games. Then looked again. Looked at the 'cartoony' art, the shadows, oh the drop shadows. And then came back to our retro REDMOND SIMONSEN ROOTS. The building art is the work of Sandy White and has not been used in the system. The woods are more yellowish green, earth grainier, the entire map aimed to be more foreboding. A familiar scene for your BRL 1192 warriors to ply their craft. Disclaimer: In BRL 1192 "war" no one gets hurt. 4. A new U.S. HPT/Casualty Table Play Aid in the familiar 12" × 18" folding format is provided for use and includes the new Casualty Table, plus some new material you'll need. 5. A new Global SSR presentation is in color and part of the folding folio, really a play aid as it too contains a detailed LOS example. 6. The scenarios present you about 80 hours of gaming, enough to pore over the battlefield, Special Rules, unique situations and terrain, even if playing each ONCE.
When you go to the BRL 1192 part of the site – it was there waiting for you all the time, you'll see we positioned this to thank YOU for your manly patience. You there, hunkering down outside El Agheila. You there. All the other BRL 1192 gear is IN STOCK for immediate shipment. This new module also ships immediately. Some thoughts on the module. The map provides a chess-like experience, as you literally track every man, weapon and tank … on a battlefield that is legend. Yes, there have been other takes on the battle in the BOCAGE. From the aforementioned cartoony Memoir to those based on fun, easy to learn 16-page long rules sets, to much larger rules from GI: ANVIL OF VICTORY to ASL®.
All of the above have tried to depict the tight nature of the battlefield. Tight, clogged lanes. Short lines of sight. Fog of war. And to some extent they've all done the job. So why this choice to get BRL 1192 breathing again? A number of reasons. One is that BRL Jerboas and Desert Foxes likely own the system to date and thus have their Germans (BRL 1192 Core/Tobruk DEPRO) and Americans (BRL Kasserine Expansion) in hand already—making for an easy entry. Kudos to predecessors aside, what they ALL have in common is that the system brought to fruition in the form of BRL 1192 preceded them ALL. And while its originator may be gone almost 20 years, he had dreams of expansion. He designed an Arnhem module that is massive. With this module, the first step OUT OF THE DESERT takes place without the complexity and investment a giant Arnhem module entails.
Despite the playable nature of the scenarios, due to their non massive sizes, you will be experiencing a more detailed rendition, soldier by soldier, MG 42 by MG 42 … of the battle that none of the simpler … and even more complex systems provide. And you'll be part of breaking new ground, with the opportunities for immersion, two-way communication with a listening publisher … that entails the creation, experimentation, of something new.
---
UPDATE : The Damage Table for the French R35/H39 is being updated. Check back here shortly for a link - in the meantime the 50 Long AP and 50 Short AP rows are to be switched for use when firing at the AFVs.
As you can imagine, my gaming experience goes back to the 1970's, like many of you. Many of you know that Hock's TOBRUK was my very first wargame purchase, from the old Westchester Hobbies, in White Plains, NY, on Post Road. I still own all of the copies of Fire & Movement, and The General, that were purchased there … remember when we would wait for a new issue to hit the rack? Seems rather prosaic now, but that anticipation was "how it was". Behind the scenes we have a couple of rather talented men engaged in the BRL 1192 sphere – coincidentally, both PhD's – one a West Pointer another an MIT guy. And the former finds himself at MIT to lecture.
Refer back to this writer's blue collar sensibilities and understand having great talent like this along to share a wargame passion is as good as it gets. So behind the scenes here many an hour has been spent by yours truly pondering what makes BRL 1192, the modern day iteration that it is, of a classic game made into a game system. Never, ever let the absence of "public talk" confuse you into thinking this project is not near and dear to the publisher's heart > better to do as I was taught and "trust in the brotherhood" when in doubt.
Ok, admittedly, the wheels grind slowly at times, and the undersigned is well aware that we do not live in a world built for patience. So here's to piping up! I am very excited about the possibilities for BRL expansions now in the works. Especially now that a blinding flash of the OBVIOUS has pointed the way for the next step – previously referred to as "small steps". But not all that small when one considers that TOBRUK never exited the desert. The "small" in small steps will be in the form of low cost expansions for owners of the currently in print BRL 1192 core and all expansions.
You already have a pile of Germans, Americans, British and French in your BOT, hot hands. The aim is to give you MORE rules, play aids, scenarios, and situations to use what you have. Work has gone into smoothing the results of Gunfire Factors (thank you Don!) in order to make it cogently expandable for all of World War II – so you will experience system advances too. And together we can enjoy what makes BRL 1192 different – the 75 yards scale, time frame, and ultimate detail that allows us to account for every man, gun, tank, truck, weapon, and aircraft.
---
NOW SHIPPING!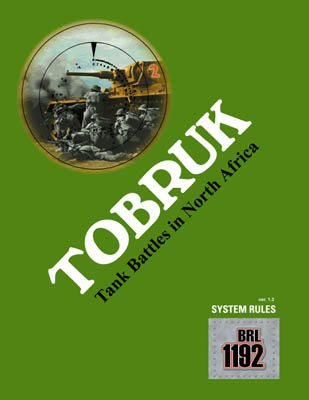 You can NOW get the BRL 1192 rules and play aid set that is being provided to the ARDEC students at Armament Graduate School to bring YOUR collection to the latest HPT, overhead soldier examples, and all play aids edition 1.3!
With this set you receive:
>> One 32 page version 1.3 rulebook in full color
>> One Updated Axis HPT in expanded 12" × 18 folding color card format
>> One Updated Commonwealth HPT in expanded 12" × 18 folding color card format
>> Color Italian Roster Chart with Overhead Soldier art used in expanded 12" × 18 folding color card format
>> Color Commonwealth and British Roster Chart with Overhead Soldier art used in expanded 12" × 18 folding color card format
>> New Play Aid Card 3 in expanded 12" × 18 folding color card format
>> An all new set of updated Axis Damage Tables
>> An all new set of updated Commonwealth Damage Tables
>> A FREE BONUS SHEET of color die-cut BRL 1192 marker counters (280 in all)
>> ANOTHER second FREE BONUS SHEET of color die-cut BRL 1192 marker counters (another 280, not the same sheet as the first BONUS sheet provided; 560 color die-cut counters in all!)
This is a LOT of gear and it ships immediately!
---
The YANKS are coming to BRL 1192 and it's about time! The French are coming too! And that means the action moves to Operation Torch, Kasserine Pass and .. beyond. New counters, tables, scenarios ... the works. Additionally, all of the expansion packs for BRL 1192 have been updated to the latest overhead soldiers - click on the images below to go to the pages to order.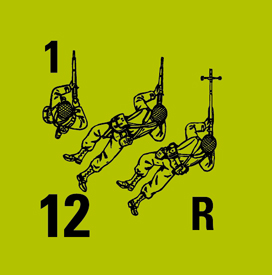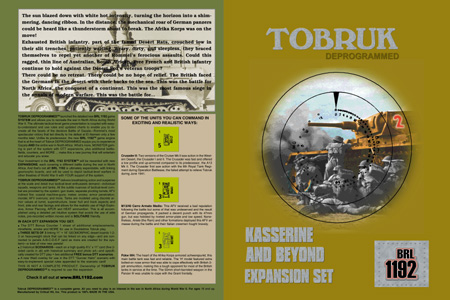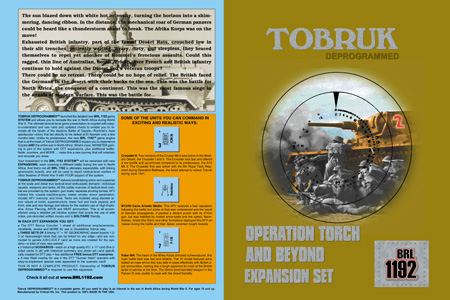 BRL 1192 2nd Edition is NOW SHIPPING! What's more, the new editon includes the OVERHEAD infantry counters, making the entire system TOP DOWN views, the long-awaited enhancement ... as in waited for since 1976.
A small supply of BRL 1192 desert expansions are still in stock then they'll be gone. The new printing of BRL 1192 will include the latest rules and play aids, and the new counters take care of all known errata (rather minor and none that affects playability of the 1st Edition).
---
The Desert Fox has broken out of his pen and word is German panzers are fanning out into the Western Desert. All hell is breaking loose, Agedabia has fallen. Will Rommel push to Msus, up the coast to Benghazi ... intelligence assured General Wavell all would remain quiet...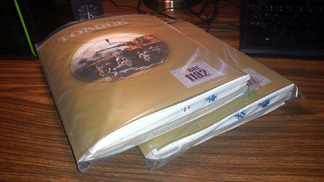 TOBRUK DEPROGRAMMED is packing as we speak and about to hit your mailbox with an armored fist that literally turns back the clock ... and advances the state-of-the-art from a standpoint affirmed long ago, in your youth. With us, YOU are YOUNG again, and bold ... fearless and ready for the challenges ahead that will test your intellect ... tactical acumen ... and knowledge of military history, zoomed-in. and close up. DEPRO starts the BRL 1192 engine ... and like a teenage crew of a Pzkw IIIg, who knows how far the campaign will advance .... until the glittering goal of Alexandria appears as a mirage in the distance ... Cairo ... the Suez Canal ... the oil fields beyond and a link-up with General Hoth. YOU will determine the outcome, only that is known.
DEPRO and the DTT expansion ship together, to be followed in a few weeks by all of the currently selling expansions. Rommel's Goggles NOT available YET ... but we are lookng for a supplier so stand by.
For a peek, some intel ... scroll all the way down ... to the bottom of this screen. So many years ago, TOBRUK depicted infantry using NATO symbols .... and we give you your true retro in the core set. The systems that followed ... had straight up views, generic to a point, plus side-views for emplacements ... one easy-reader system has soldiers, low res color, at a three-quarter angle. Yet. EVERYTHING else is an aerial view -- TOP DOWN --- leaving us reaching ... for the ultimate photo-realistic, evocative battlefield ... men, machines ... a presentation that is consistent ... harkens the presenation to the drama of miniatures, minus the untold hours painting ... and painting (not that THAT Is not one whale of a hobby!)
Scroll down .. from left to right ... HQ Group - FO - Infantry section.... write Ray with your thoughts, you know where to reach him.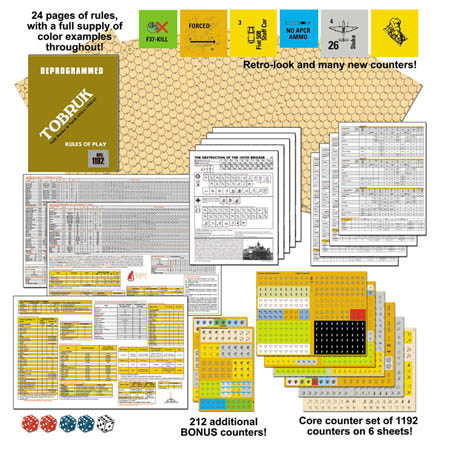 In the early 1970's an innovater and ordnance expert named Harold came along and got his hands on a document unseen outside of military circles: BRL 1192. The data within became the core of the ground-breaking design that preceded every other major tactical-level system and won BOARD WARGAME OF THE YEAR, after its release. Years later, an MIT-grad and devotee named Brian came along and saw the potential of reverse-engineering the 'programmed instruction' rules, and was himself, soon in the company of a publisher named Ray, that owned the original as his first board wargame. The result is something that brings back the approach to tank vs. tank warfare, and keeps the approach true—while working in the enhancements, published and yet to be published, to create a truly unique system of recreating the war in North Africa and beyond.
Prior to his untimely passing, Harold was working on almost a daily basis with Ray and completed a collection of reports that provide ordnance vs. AFVs and other vehicles—using the exact same approach used in the original TOBRUK. While Hal's book 'Steel on Steel' was never published, these reports are the basis of a new collection of DAMAGE TABLES that will be used to portray combat beyond the confines of the original nine scenarios in the core game.
In the years since the publication of TOBRUK, a variety of other systems have come to the fore. None use the methodology found in the system founded on and represented in BRL 1192. Some enhancements to game play were introduced in the years that followed the original publication, and were embraced by the designer. These have been judiciously reviewed, and folded in, to BRL1192 to craft a new experience, devoted to but not shackled by outdated notions: yet familiar to hobbyists that enjoyed the work that preceded it all.
In addition to a complete set of rules that provides ALL the capabilities needed to depict warfare at this level in only 24 pages of rules—all assembled into a cogent rulebook—terrain appears, in keeping with Hal's past suggestions .... just minus the need to 'pencil' anything on your boards. A simple to assimilate presentation of new AFV and vehicle types make their debut in the core game... to be followed by every vehicle, AFV and weapons-system to see action in the theater.
Too many dice rolls? Solved, with a new multi-dice rolling system AND we provide the 5 dice you need with your order. Feeling bored by tanks that can't scream across the battlefield, using more movement points per turn? No brainer, the DOUBLE-TIME rules allow you to literally pump up the presentation seamlessly ... and we provide the kit you need to do it.
The old boards were not geomorphic? No, they were not. But the new ones ARE FULLY GEOMORPHIC ... and BRL 1192 is thusly, fully scalable .... in an almost infinite manner. Scroll down and nail yourself the first DT kit and get on with the most extenisive desert-gaming ever, anywhere. You can literally 'feel' the long ranges involved when you stand off your DT battlefield.
Planes that get hit by AA then veer, out of control before becoming tangled wrecks on the desert battlefield? Check. Officers getting men to move along at double-time? Check. Long Range infantry fire? Yes. All to hit attempts need to secure a hit via dice roll to keep things exciting? Of course. Discrete gun and tank facings? Yes. Turret markers replacing 'side notes' to remind you which what these rather important appendages of a tank are facing? Check. And checkmate!
Ok, so before you strap on your Rommel's Goggles (we assume you ordered them out of the catalogs years ago; otherwise, get some safety goggles at your local big box hardware store) you want to know: tons of records-keeping still required? No and yes! You get a glossy Roster Chart 2015 edition (and can download an infinite quantity more HERE)—use an erasable pen. But almost all records-keeping is replaced by the new markers presented ... over 500 in all ... as part of the massive counter collection provided.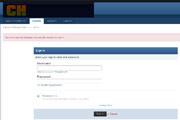 (As of September 1, 2017) If you're looking for 3000 of your fellow hobbyists and what is widely recognized in wargame circles as the friendliest and most informative message board on the internet you can sign up for the CH Message Board. It's a free service provided by Critical Hit and has attracted over 71,000 posts to date and counting.
---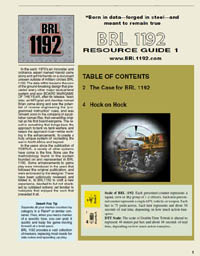 Get BRL 1192 Resource Guide 1
---
DTT Versions of scenarios 1-9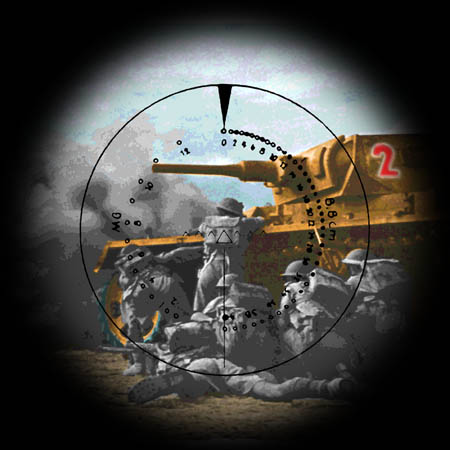 Doubletime Tobruk is a variant for the BRL 1192 core set that builds on the scalable battlefield system -- and literally blows up the battlefield to twice its size -- where AFVs move at 2× their MP -- creating desert warfare on a truly majestic scale. There simply has never been anything like it in scope and execution. Includes all the additional folding geo boards, plus a sheet of color die cut counters + TWO bonus scenarios.
Easy, fun, big, exciting desert warfare.
NOTE: To help players use Tobruk Depro scenarios 1-9 using DTT, a set of DTT-specific versions of 1-9 have been created for owners of the DTT Expansion. These supersede the DTT rules where they differ. You can download them here.
You can also SCALE UP the system using these 3-panel DTT board sets, found here.
---
Tobruk DEPRO Expansions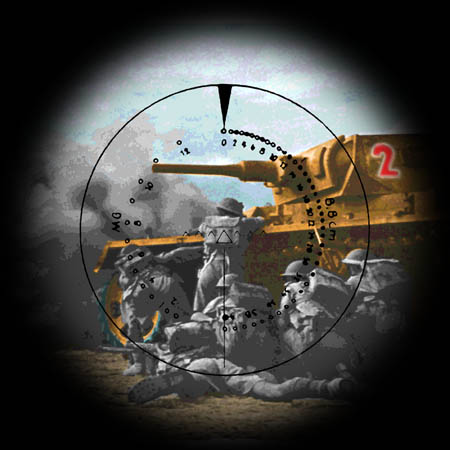 Here come the expansions for the BRL 1192 system! Each expansion includes new counters to add to your collection, plus scenarios, special rules, boards, and terrain overlays! The aim is to cover the entire war in North Africa ... from Agedabia to El Alamein ... then all ... the ... way .... back to Tunisia and byond. German, Italian, British, New Zealander, American ... French. EVERY LAST WEAPON, MAN AND YARD.
Are you ready to be one of the Rats ofTobruk? A DESERT FOX? We will provide you with the equipment. You bring your heart fo this corner of history.
The first batch of expansions include:
>> BRL 1192 Expansion 1: El Alamein A - The battle of El Alamein, the first 8 scenarios.
>> BRL 1192 Expansion 2: El Alamein B - The action continues with a new batch of 8 scenarios taking you into the heart of the intense action.
>> BRL 1192 Expansion 3: El Alamein C - Supercharge and onwards, as the presentation wraps up with 8 more scenarios.
>> BRL 1192 Expansion 4: The Benghazi Handicap - Rommel races into the desert and the 'handicap' is on, one of the most exciting periods in the desert war. 8 scenarios, all set during the 1941 campaign.
>> BRL 1192 Expansion 5: Electric Whiskers - The Italian 'juggernaut' pushes forward into Egypt and an easy victory over British forces. Or will is be so easy? 8 scenarios, all set during the 1940 campaign.

This is a full set of 5 BRL 1192 dice for use with the system. You receive the exact dice and colors shown: 2 × blue + 2 × red + 1 × white. We have special rules for using these, so they are offered if you want more sets.
---
Errata Identified and Snuffed
All proofers are absolved and the following is the official errata compilation for TOBRUK DEPRO and expansions to date:
1. Any stray symbol that defeated the armor of font substitution in the files exported to be printed, refer to the following: £ is < and ³ is >.
2. Point 182 in the VC of scenario #8 is (of course, mea culpa) Pt. 186.
3. See above official DTT renditions of scenarios #1-9; where these differ from the DTT design-your-own rules, consider it official.
---


The 2015 editions of the Roster Chart and Target and Damage Roster are licenses for download, use and reproduction by owners of TOBRUK DEPROGRAMMED. Click on the image for each to download your copy.